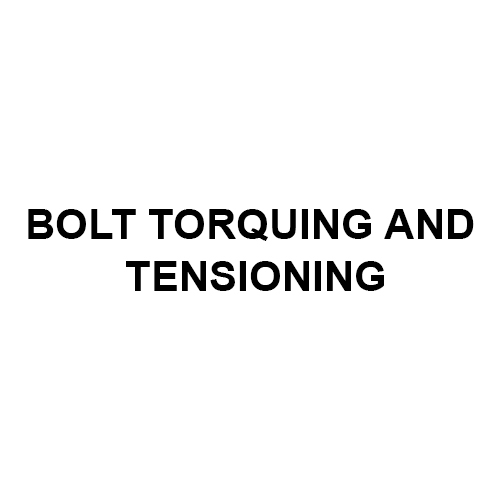 Bolt Torquing And Tensioning
Product Description
At Rtork CONTROLS we provide a total solution for all of your bolting requirements utilising the latest technology to drive the highest standard of service. Our experienced and competent technicians deliver major shutdown support services – project planning, design, engineering, equipment, trained technicians, IT systems support, onsite/offsite transfer and supply and support services.



Our specialists also offer complete project management of all bolting requirements from start to finish, including the design of tightening procedures, advice on preferred equipment to be utilised, on the job installation and tightening, and post job reporting.



We use the safest, most advanced and versatile equipment in the industry which, when combined with our specialist integrity support provides an unparalleled service to our clients. Our total job capability uniquely positions us to provide a full project solution without the requirement for multiple contractors.



Hydraulic Bolt Torquing


Our highly skilled technicians use their in-depth technical knowledge and best industry practices to ensure accurate bolt loading is achieved. We pride ourselves on the belief that our hydraulic torque equipment is the safest and most advanced equipment used within the service industry. We have a dedicated engineering department that can offer a bespoke engineering solution to any problematic application.



Hydraulic Bolt Tensioning


The fastest and most accurate method of controlled bolt tightening currently in the industry, hydraulic bolt tensioning enables a direct load to be applied evenly across all bolts and eliminates the factors introduced via bolt torquing operations. Due to our investment in the latest tensioning technologies we have the capability to carry out applications previously inaccessible to older tooling. Our engineering and support team ensures our technicians have the right tool for every for application.

Flange Spreading


Our Mechanical and Hydraulic flange spreading solutions provide our technicians with a fast method of accessing gaskets in all types of flanged connections. This safe operation dramatically reduces down time, increases efficiency and ultimately reduces the cost of a gasket change out.



Hydraulic Nut Splitting


Rtork CONTROLS technicians utilise specialist hydraulic equipment to offer the most rapid and effective method of removing corroded or seized nuts. This operation eliminates the need for undesirable and time-consuming operations such as cutting, grinding or chiselling. The ease and speed of use ensures that client deadlines and targets are achieved despite such problems occurring.



Ultrasonic Bolt Monitoring


In critical applications it is sometimes necessary to ascertain a precise bolt load. Our technicians combine our proven tightening techniques with our highly accurate ultrasonic bolt monitoring equipment to achieve a "fully controlled tightening method". By measuring the actual elongation, we can eliminate variables such as temperature and friction to give our clients an accurate reading of bolt load, stress or % strain.
Boiler Weighing
Our specialist team and hydraulic tooling offer our clients an effective way of reducing high stress concentration in boiler assemblies. The operation uses our tooling to accurately measure the load in each of the individual boiler supports. The hydraulic tooling is then used to balance and distribute this load to that specified by our client or original design.


Turbine Tightening


Our technicians have vast experience in the specialist operation of break out and fully controlled torque tightening of turbine casings, turbine coupling shaft and HP steam inlets. Using our specially adapted tooling and bespoke solutions, we can carry out safe and efficient tightening operations on equipment with difficult access and non-standard configurations.
Contact Us
Plot No. 3, Shrinath Industrial Estate, Pokhran Road 1, Near Upvan, Thane, Maharashtra, 400606, India
Phone :+918045476291